The Polish Club Milton
The Polish Club
Milton
Home of all things Polish in Brisbane. We proudly share our rich cultural heritage with Members and Guests.
Food
Restaurant
& Bar
Savour traditional Polish cuisine, beers, vodkas and warm hospitality at our Restaurant & Bar.
Events
Events &
Venue Hire
What's on at The Polish Club Milton.
Affordable venue hire for events and functions
Polish Market Day
Polish
Market Days
Purchase all your favourite Polish pastries, pantry items and browse the stalls this upcoming market day
Our Community
Our
Community
Experience Polish culture through our community initatives, social groups, library and more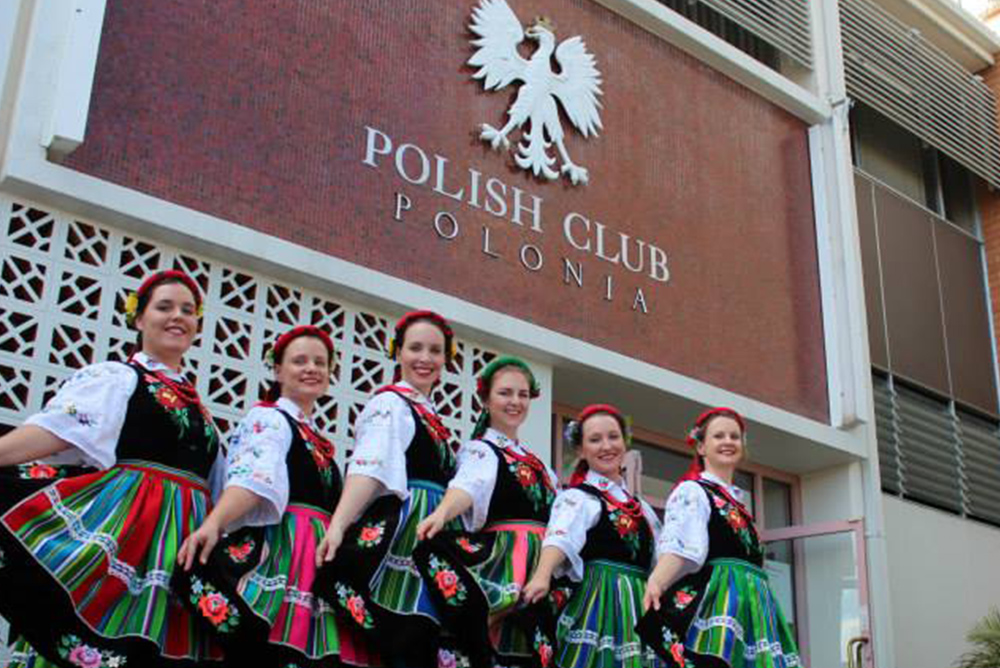 The Polish Club Milton
"Polonia" Polish Association of Queensland Inc. also known as The Polish Club Milton is one of Queensland's oldest ongoing ethnic clubs. "Polonia" is truly the home of all things Polish in Brisbane and proudly shares its heritage with everyone. We hope you will visit us soon!
Our Club would not be here without the wonderful support of the community. We welcome all types of financial support, whether it's a one-time gift, regular monthly donation, or a bequest.
Restaurant & Bar
Reservations are essential.
Please call (07) 3369 2747 during advertised trading hours.
Homemade Pierogi
Savour Polish cuisine with our best selling Polish Pierogi (boiled dumplings). Available in Meat; Potato and Cheese; Cabbage and Mushroom. Served with side salad.
Polish Beers
Sample the best of Polish beer at the Polish Club Milton. Poland has a long and rich history producing beer for over 1000 years.
Polish Vodkas
Polish Vodka distilled from Polish-grown potatoes or grains (rye, wheat, oats or barley) is famous worldwide. We serve a large selection of Polish dry traditional and various flavoured vodkas.
Events
What's On at The Polish Club Milton!
Mark your calendars and book your tickets now for our upcoming events
The Polish Club Milton, 10 Marie Street Milton QLD 4064
The Polish Club Milton, 10 Marie Street Milton QLD 4064
The Polish Club Milton, 10 Marie Street Milton QLD 4064
No event found!
Polish Market Day Brisbane
One Saturday each month we host our Polish Market Day. It's the perfect opportunity to experience our community and stock up on all your essentials like pączki, pastries, breads, and small goods. Browse the boutique arts and craft stalls and enjoy a beer and krański in our beer garden. See you soon!
Membership
Become a member and enjoy special benefits and discounts including 10% off at our Restaurant and Bar. Support Polonia today by becoming a member
Polonia Membership Renewals 2023-2024 now available
Renew at the Restaurant to continue enjoying the great benefits our membership provides!
Functions // Events // Meetings
Venue Hire
With an ideal, easily accessible location, our premises can cater for
weddings, birthday parties, corporate functions and meetings.
Make an appointment to view our facilities and discuss your venue hire needs!
Address
The Polish Club
10 Marie St Milton 4064
Queensland Australia
Restaurant Opening Hours

Wednesday: 11am – 2pm; 4pm – 9pm
Thursday: 11am – 2pm; 4pm – 9pm
Friday: 11am – 2pm; 4pm – 9pm
Saturday: 4pm – 9pm (or booked functions)
Sunday – Tuesday: CLOSED